The Simpsons Game é um jogo de ação-plataforma lançado em2007 para todos os consoles, que narra como seria o dia da família de Springfield se eles descobrissem que sua próxima tarefa, enquanto astros da mídia, é entrar dentro de um videogame. Com isso, em vez de simplesmente aprontar na escola, Bart deve pegar seu uniforme de Bartman, seu estilingue e seus apetrechos de Homem-Morcego para ajudar Homer — agora com o poder de ficar mais gordo e esmagar os adversários — a derrotar ameaças contra sua cidade natal. Marge detém seus princípios de mãe-protetora para reorganizar uma cidade em pânico.
A lista não acaba aqui, já que a Lisa tem poderes de transcender os limites da matéria e adotar a forma de "mão de Buda", uma mão gigante que cai dos céus capaz de manipular objetos pesados para dar continuidade às missões. Até mesmo a pequena Maggie tem seu espaço reservado, uma vez que ela entra em pequenos dutos e locais apertados para acionar dispositivos a fim de ajudar sua mãe com seus objetivos.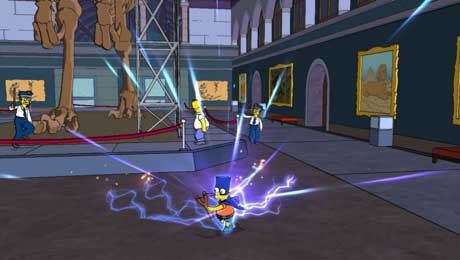 Talvez o maior trunfo de "The Simpsons" seja não se levar muito a sério, começando pelo enredo: Bart encontra o manual de um jogo chamado "The Simpsons Game" e, com isso, percebe que ele, Lisa, Homer e Marge ganharam poderes especiais. É o mote ideal para dar início a uma verdadeira tiração de sarro com a cultura pop e, claro, os games, em especial.Sem muita cerimônia, as fases de "The Simpsons" zoam com "Shadow of the Colossus" ("Shadow of the Colossal Donut"), "Medal of Honor" ("Medal of Homer"), "Grand Theft Auto" ("Grand Theft Scratchy"), "EverQuest" ("NeverQuest") e por aí vai. Ao longo do game, você terá a oportunidade de ver muitas referências a jogos antigos e recentes, o que mantém o interesse tanto dos jogadores experientes quanto daqueles mais novos.
The Simpsons the game tem foco na cooperação entre os personagens e nas partidas com 2 jogadores. Existem inúmeras passagens parodiando o mundo dos games, o que mantém o espírito do seriado.
Considerações: "The Simpsons" é um curioso caso, no qual a produção se sobressai em relação ao jogo propriamente dito. Sem os Simpsons, seria um jogo de plataformas medíocre, com direito a falhas irritantes e trechos enfadonhos. Porém, com um enredo bem bolado, o capricho nos gráficos, nas dublagens e no roteiro, torna o título indispensável na estante de qualquer fã da série.
.